Mashing, fly sparging, batch sparging, dry hopping, late additions. Have an idea you want to bounce or stop by and share your experiences here.

Last night quite a few of you expressed interest in my CAP recipe. Unfortunately,I just discovered I have no idea which old computer my ProMash DB is on and I might have lost it

The recipe is really more about technique and ingredient choice than specifics so I'll post what I remember and the procedure.
68% 6-row base malt
2% C40 (This is not to style, but I like the color it adds and at 2% there is little sweetness from it)
30% dry polenta corn.
about 35-40 IBUs of Cluster hops. 60% boil, 20% @ 30 min, 20% at 15min, no aroma hops
Grind the polenta using a Corona mill, a roller mill can't do it. Don't make flour but rather fairly course. There just happened to be a picture in the gallery from way back when I went over this before: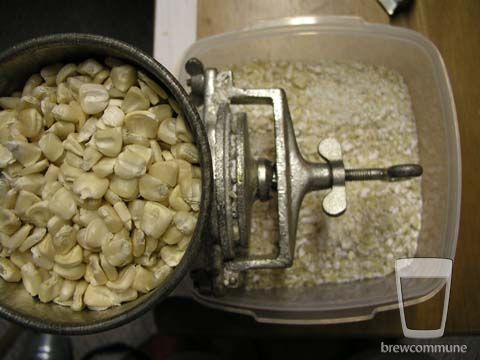 In a thick bottom pot (it will burn and stick) bring the polenta and about 1/2-1lb 6-row to a boil, this is a cereal mash. Monitor your cereal mash (stirring a lot) and when it reaches 152, kill the flame and hold it for about 15 minutes. Add additional water as the polenta absorbs it, keep a medium oatmeal consistency. After 15 minutes, continue to the boil and boil for about 30 minutes until the polenta is very soft.
Meanwhile, dough-in the rest of your grist in your mash tun with a temp of about 147-149. The timing objective is to be done with your boil about 30 minutes into your mash. Add the entire contents of your cereal mash to your main mash. This should get you in the 154-156 range. If it brings you over 158, stir in cold water to avoid denaturing your enzymes. Mix it all well and continue your mash for 30 minutes, mash out 168* and sparge as normal.
Ferment with a Pilsner yeast or a Mexican lager yeast. following the temp recommendations on the yeast and lager 6 weeks.
Makes an interesting beer. The flavor is light, slightly sweet with a graininess to it and a course but not unpleasant bittering.
Posts: 3737
Joined: Fri Feb 18, 2005 5:38 pm
Location: Orange County, CA
---
COOL! Thanx, Derrin!
California - Where the ground moves and the traffic doesn't.
Posts: 59
Joined: Thu Nov 10, 2011 9:24 am
---
Thanks for posting this up Derrin!

When you say to bring the polenta corn & some 6-row to a boil, I assume you do not mean boiling the 6-row grain, but removing it after the steep at 152-F, then boiling the cereal mash with all the husky grains removed.. right?

Or is it intended to boil the husk of the grains with the cereal?
--LexusChris
"A woman drove me to drink, and I hadn't even the courtesy to thank her." – W.C. Fields
Posts: 1845
Joined: Sat Apr 25, 2009 7:08 pm
Location: Corona del Mar, CA
---
lexuschris wrote:Thanks for posting this up Derrin!

When you say to bring the polenta corn & some 6-row to a boil, I assume you do not mean boiling the 6-row grain, but removing it after the steep at 152-F, then boiling the cereal mash with all the husky grains removed.. right?

Or is it intended to boil the husk of the grains with the cereal?
--LexusChris
Posts: 3737
Joined: Fri Feb 18, 2005 5:38 pm
Location: Orange County, CA
---
---
Users browsing this forum: No registered users and 1 guest